Appliance Delivery Service Auckland
Do You Need an Appliance Delivery Service in Auckland ?
Covering the whole Auckland area our top rated auckland movers can collect your appliances and deliver them to another destination across the Auckland area. Then we can move them from the truck into your home . Let our team help you move that large and heavy fridge for example. Whether you need a single item moved multiple items or our full furniture pick up and delivery service , our team of top professional movers can help. Our team ahs been doing appliance delivery for years and offer a fast turn around service if you are in urgent need of appliance movers

Phone:09-884 0991
Fill In The Form Below For A Quote Your Require And We Will Contact You ASAP To Discuss
How Much Does It Cost To Move A Fridge Freezer in Auckland?
Fridge delivery costs or how much to move a fridge will depend on a number of factors like , where is the pick up location ? what size is the fridge or fridge/freezer ? Are there any flights of stairs involved in the move at either end ? Your best option is to contact us to get an obligation free quote over the phone ( or via email ) today .

Phone:09-884 0991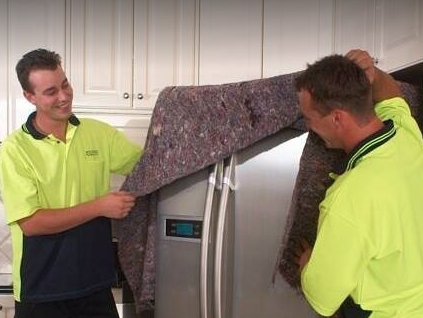 Types Of Appliances We Can Move
There is a huge variety of appliances we can shift including the following:
Refrigerators And Freezers
Clothes Dryers
Washing Machine Delivery
Dishwashers
Ovens, Stoves And Rangehoods
Waste Disposers
Air Conditioners/Heat Pumps
Dehumidifiers
Microwave Oven
Can You Move Commercial Appliances ?
Yes we can depending on the scope of the job , some we will have to decline but give us a call and we can run you through it over the phone. Commercial appliance movers jobs can be tricky.
Do You Offer a Fridge Removal Service In Auckland ?
Yes we often collect broken ,old and unwanted fridges and other appliances to be delivered to our good friends at Appliance Recycling for safe recycling disposal . Call Us Today For A Free Quote On 09-884 0991 or visit the contact us page
I Purchased A Fridge On Trademe Can You Pick It Up And Deliver ?
Yes we can, We offer either a full Trademe Delivery Auckland Service , or choose our refrigerator moving service for all pickups and fridge deliveries across Auckland you require ,Call Us Today For A Free Quote On 09-884 0991 or visit the contact us page 
Can A Fridge Be Transported Laying Down
Yes they can lay refrigerators down for transport, we checked with expert team at Appliance Recycling Ltd who have been in the appliance repair business for over 30 years and they said with modern fridge freezers all you need to do is stand them up for 10 to 15 mins before plugging in and turning on. It is still recommended to move them in an upright position but if this is not possible laying them down will not cause any harm or damage to your fridge or freezer whilst its being moved .
Moving a fridge freezer or washing machine delivery service is what we do best so get in touch now 






Call us today for an obligation free quotation to move your appliances , let us kno w the details of your job and any instructions we will offer you a quote . We move a large range of items from house lots to furniture moving to spa pool moving , pianos and a whole lot more on top of our fridge moving service, like for example flat pack furniture assembly
Also check out our friends who offer the best cheap appliances . we do all their delivery and drop off work , so if you need a cheap appliance please visit them
Why Choose Our Moving Services?
Cheap and Affordable
Best Moving Service On The North Shore
Reliable and Honest Operator
Near Me  – And Always On Time Service
Local Owned And Operated Team
2 Men and a truck or More if Necessary
Hours 
Wednesday 
7:00 am–5:00 pm
Other Pages And Social Links
Contact Office Movers Auckland
Phone:09-884 0991

Latest posts by Deben Raut
(see all)